Paradise Lagoons Campdraft an Iconic Outback Experience
Established in 2003, the annual Paradise Lagoons Campdraft is a homegrown horse sport, one of only three sports invented in Australia. Hosted at the multi-million dollar, purpose-built facility, the Val and Tom Acton MBE Memorial Complex, it is one of the most anticipated regional sporting events in Australia. Over the four days of competition it attracts up to 12,000 competitors and spectators from far and wide to the Beef Capital of Australia, Rockhampton, in Central Queensland.
In addition to hosting the Campdraft and Cutting, competitors and spectators are catered for with the State of Origin Campdraft, trade and food fair, ladies luncheon, sponsors event, celebrity ambassadors, country music and other entertainment. Paradise Lagoons Campdraft was the vision of late Australian cattleman Graeme Acton and his family. Just like its founder, Paradise Lagoons Campdraft custodians and organisers have a grand vision and want it to become an even more iconic annual tourism event.
While the event runs over four days with the competition starting sun-up on Thursday and culminating in the hotly contested finals Sunday afternoon – the weekend frivolity kicks off from Friday afternoon. Competitors, spectators and attendees are promised an action-packed weekend suitable for all ages and representing significant value for money.
---
Paradise Lagoons Val & Tom Acton MBE Memorial Complex
Rockhampton, Queensland
The purpose designed and constructed Paradise Lagoons Camprdraft complex is the finest horse sports facility in Australia. The Central Queensland complex was the dream of Graeme Acton, who was determined to take the Australian grown sport of campdrafting to a new level for competitors and spectators.
Graeme and his brother and business partner, Evan turned that vision into a world class venue featuring three campdraft arenas and a cutting arena, supported by well designed infrastructure for competitors, sponsors and spectators, event and support staff, and cattle management.
The Val & Tom Acton MBE Memorial Complex was officially opened on Friday 2 May, 2003 by the Hon. John Anderson MP, Deputy Prime Minister of Australia and Ed McCormack President of the Australian Campdraft Association.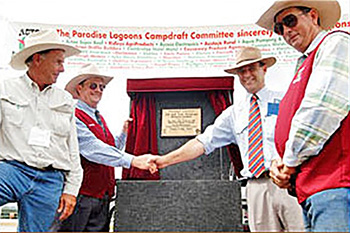 We lost Graeme in May 2014 in a tragic campdrafting accident at Clarke Creek in Queensland. And whilst his passing has left a large void in the rural community, those who knew him and even some that didn't, will always be grateful for his vision, his enthusiasm, and what he has delivered for the thousands of people that love campdrafting.
Paradise Lagoons is not only a campdraft complex, it is also a very versatile venue surrounded with mountain views offering endless possibilities for any occasion whether it be a dream wedding, grandiose ball, memorable birthday, corporate meeting or sporting event. The venue offers several options to host events including the famous Lagoon and adjacent paddock and various facilities at the Complex including The Paradise Bar, The Stables, The Pavilion and The Lawns.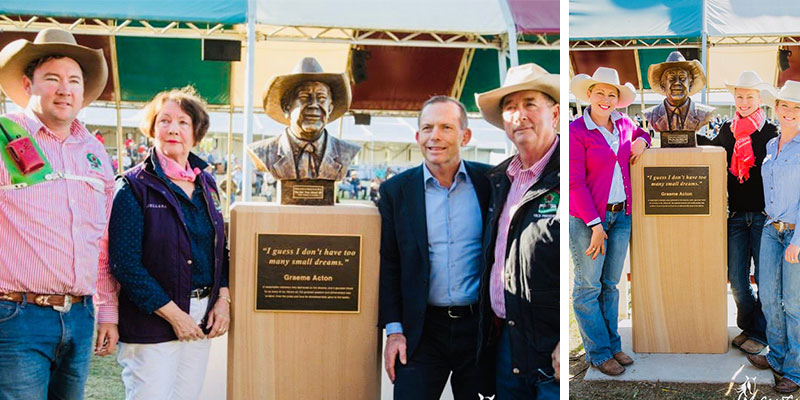 ---
Our Worthy Beneficiaries
Since its inception, Paradise Lagoons Campdraft has supported a host of local charities, schools, service clubs and organisations plus our two major beneficiaries, the Royal Flying Doctor Service and the Capricorn Helicopter Rescue Service. Together they have benefited to a sum in excess of $395,000. This years event will continue this tradition.
---
The Sport of Campdrafting
The sport of campdrafting has its origins in the early days of the Australian stockman, and is believed to have begun in rural Queensland in the early part of the twentieth century. It is one of only three sports established in Australia along with Polo and Aussie Rules Football.
When drovers needed to select individual cattle from a mob to drive them to a separate holding area, the stockman would "cut out" the beast from the mob. This was achieved through the skills of the horse and rider to block the attempts of the beast to follow his natural instincts in returning to the mob. Over time, stockmen developed competitions based around this activity, which have evolved into the uniquely Australian sport as we know it today.
The sport today is conducted in a set of yards attached to an arena and requires the competitor to "cut out" a beast from the yard or "camp", follow it out through the open gate into the arena where he must guide the beast around a course of a right and left hand turns before guiding it through a gate, all in a few short minutes. (See diagram below) Points are scored by horse and rider for cut out, horse work and course completion, from a possible total of 100 points.
A good campdrafter is not just a fine horseman, but has the skill to select a suitable beast from the mob that will run well. The prestige associated with a win in a campdraft of several hundred competitors is invaluable to the owner of the horse, as the winning horse is ranked amongst the finest stock horses in the country.
– Source: Australian Campdrafting Association